3 different Kershaw Blade Trader Knives to choose from



---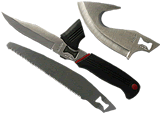 Kershaw Alaskan Blade Trader Knife 1098AK
The Kershaw Alaskan Blade Trader knife has three blades that, together, make hunting big game easier. One blade is a big gut hook ulu-style blade that is made from high quality AUS6A stainless steel. The other is a 420J2 stainless steel straight edge blade for hunting, and the other is a saw made from steel. The copolymer knife handle has a quick release built into it so that you can swap between blades in a matter of seconds. All three blades and the knife are carried in a sturdy leather sheath made for your belt.
Blade material: AUS6A (gut hook), 420J2 stainless steel (hunting blade), steel (saw)
Handle material: black copolymer
Blade lengths: drop point-3 7/8 inches, bone saw-6 1/8 inches, gut hook-4 inches
Overall length: 11 inches
Weight: 11.6 oz

retail $74.95
our price $43.62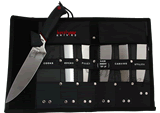 Kershaw Deluxe Blade Trader Knife 1099DBTX
If you cannot make up your mind which Blade Trader knife set to get then try this Kershaw Deluxe Blade Trader model 1099DBTX. This Blade Trader knife set includes a cooking blade, fillet blade, carving blade, bread blade, saw blade, paring blade and two handles. It is great having a spare handle in case you break one or want to have two blades active at one time. The Deluxe Blade Trader with its blades and two handles come with a nylon carrying case so you can keep up with everything.
Blade Material: 420J2 stainless steel
Handle material: black copolymer
Number of blades included: 6
Overall length: about 12 inches each
Weight: 29.3 oz
In Stock: more than 10

retail $94.95
our price $51.25
additional 22% OFF !
sale price $39.99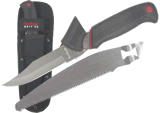 Kershaw Hunters Blade Trader Knife Set 1094HBT
The Kershaw Hunter's Blade Trader model 1094HBT features two blades, a drop point and a saw. The drop point comes in handy for the every day tasks of cutting an dressing game while the saw comes in handy for removing brush in the area. A nylon sheath is included that allows you to carry the knife and both blades at once.
Blade material: 420J2 stainless steel
Handle material: copolymer
Blade lengths: knife 3.5 inches (9.0 cm), saw 6 inches (15.2 cm)
Sheath material: nylon
Weight: 9.2 oz
In Stock: more than 10

retail $54.95
our price $30.79
additional 19% OFF !
sale price $24.99

---