4 different Kershaw Camping and Survival Gear to choose from



---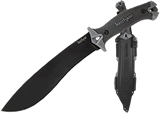 Kershaw Camp 10 Knife 1077
The Kershaw Camp 10 knife model 1077 is a full tang knife/machete hybrid that has a 10 inch Kukri style blade. The blade material is carbon steel, and the overall length of the knife is 16 inches. To be more specific, the type of carbon steel the Camp 10 is made of is very hard like the kind of carbon steel that chisels are made of. We tested this knife at a camp ground and it performed nicely, as detailed in the video below. What you will really like about the camp 10 knife is making kindling and chopping brush. The knife is so strong that if you get it stuck in the wood, simply pry it out. It can withstand a lot of force, and you do not need to worry so much about bending it. Another cool feature of the Kershaw Camp 10 is that it comes with a low profile sheath that literally fits it like a glove. The knife stores easy and will last a long time in your camping equipment.
Blade material: hard 65Mn carbon steel
Handle material: textured rubber overmold
Blade length: 10 inches (25.4 cm)
Overall length: 16 inches (40.6 cm)
Weight: 19 oz
In Stock: more than 10

retail $64.95
our price $39.79



Kershaw Camp Axe 1018

This Kershaw Camp Axe, model 1018, is made of dropped forged high carbon steel. The krayton handle on this 14.5 oz Kershaw axe ensures a good grip. This axe has a 3.5 inch blade and is 11 inches in overall length.


our price $27.38



Kershaw Fire Starter 1019

This Kershaw Fire Starter, Model 1019, is the perfect camping tool. It's magnesium steel 1.75 inch striker ensures sparks fly with every hit. Weighing only 1.1 oz., this tool is perfect for your pocket or key chain.


our price $9.11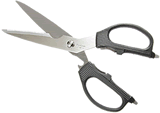 Kershaw Taskmaster Shears 1120
The Kershaw TaskMaster Shears model 1120 are just about as multi-functional as one can find in a pair of scissors. This shears are good for just about anything including kitchen food prepration, small game cleaning, or for projects in the workshop. The serrated edge on the blades not only give superior cutting power, but they have the ability to grab onto things and keep them from slipping away. If this is not enough there is a bone notch in the blade that will capture whatever you are cutting even more tightly. Then, Kershaw did not stop there. They used the rest of the body of the scissors to add a bottle opener on the outside finger guard, a nutcracker in the pivot, a jar opener inbetween the finger guards, and a lid lifter/screwdriver on the very end.
Overall length: 8.875 inches (22.5 cm)
Blade material: high carbon stainless steel
Handle material: non-slip rubber
Number of functions: 10
Weight: 5.1 oz
In Stock: more than 10

our price $28.40

---