4 different Kershaw Camping and Survival Gear to choose from



---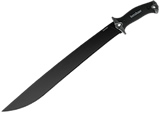 Kershaw 1074 Camp 18 Machete Knife
The Kershaw Camp 18 machete / knife is unique in that it blends the line between a big knife and a knife-looking machete. This makes the product interesting in its own right because how many times have you seen so many different brands, so many different machetes, yet they look like they were all struck from the same mold? It's refreshing that when the Kershaw Camp 18 is released it got its own look. You could see a bunch of machetes on a shelf, and this one would certainly stand out. It has that look that makes your friends say, WHOA, when you unveil the Camp 18 from its sheath!
Blade material: hard 65Mn carbon steel
Handle material: textured rubber overmold
Blade length: 18 inches (45.72 cm)
Overall length: 24 inches (60.96 cm)
Weight: 2.5 pounds
In Stock: more than 10

retail $84.99
our price $51.64
additional 26% OFF !
sale price $37.99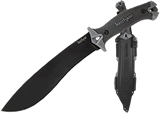 Kershaw Camp 10 Knife 1077
The Kershaw Camp 10 knife model 1077 is a full tang knife/machete hybrid that has a 10 inch Kukri style blade. The blade material is carbon steel, and the overall length of the knife is 16 inches. To be more specific, the type of carbon steel the Camp 10 is made of is very hard like the kind of carbon steel that chisels are made of. We tested this knife at a camp ground and it performed nicely, as detailed in the video below. What you will really like about the camp 10 knife is making kindling and chopping brush. The knife is so strong that if you get it stuck in the wood, simply pry it out. It can withstand a lot of force, and you do not need to worry so much about bending it. Another cool feature of the Kershaw Camp 10 is that it comes with a low profile sheath that literally fits it like a glove. The knife stores easy and will last a long time in your camping equipment.
Blade material: hard 65Mn carbon steel
Handle material: textured rubber overmold
Blade length: 10 inches (25.4 cm)
Overall length: 16 inches (40.6 cm)
Weight: 19 oz
In Stock: 2

retail $69.99
our price $40.97



Kershaw Fire Starter 1019

This Kershaw Fire Starter, Model 1019, is the perfect camping tool. It's magnesium steel 1.75 inch striker ensures sparks fly with every hit. Weighing only 1.1 oz., this tool is perfect for your pocket or key chain.


our price $9.11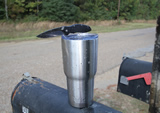 Kershaw OSO Sweet and Tumbler Engraving Deal
What fits great at the deer camp, the fishing lodge, and the center console of your truck? This engraved OSO Sweet knife and tumbler travel mug! While supplies last we are offering this Kershaw OSO Sweet knife and 30oz travel mug combo with laser engraving included for $39.99. Please note that the engraving is already included for both the knife and the travel tumbler so there is no need to add laser engraving on your order. When you fill out the shipping information in your order, please specify what you want engraved on the knife blade and tumbler. If you'd like to have your company logo engraved on the knife and tumbler email us at sales@Kershaw-Knives.net or call us at 800-458-1606. Also, if you don't want any engraving on your order just leave the laser engraving instructions blank. Any orders with no laser engraving instruction will be understood that no laser engraving is desired. We hope you like our new combo deal!
Blade length: 3 inches (7.5 cm)
Closed length: 4.125 inches (10.5 cm)
Blade material: bead blasted 8Cr13MoV stainless steel
Handle material: glass filled nylon
Weight: 3 oz
In Stock: 2

retail $71.99
our price $39.99

---