3 different Kershaw Kitchen Knives to choose from



---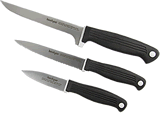 Kershaw 3 pc Kitchen Knife Set 9920-3
Kershaw quality in the kitchen? Yes, please! With the Kershaw 3pc Kitchen Knife Set 9920-3, that is exactly what you get. You receive a 3 inch paring knife, a 5 inch serrated utility knife, and a 6 inch fillet knife. The blades are made from durable AUS6A stainless steel for superior edge retention. The handles have a soft injection molded co-polymer construction that provides a comfortable gripping surface and helps ease hand fatigue. The Kershaw 3 pc Kitchen Knife Set 9920-3 is dishwasher safe and makes a great gift.
Inludes: Fillet knife, serrated steak knife, paring knife
Blade lengths: 3, 5, 6 inches
Blade material: AUS6A stainless steel
Handle material: Injection molded Co-polymer
Total weight in box: 0.65 lbs

our price $38.34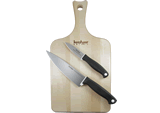 Kershaw Cutting Board Knife Set CB-3
The three piece Kershaw Cutting Board Set CB-3 makes a great addition to any kitchen. The cutting board is made from maple in a traditional paddle shaped design. The Kershaw logo is emblazoned across the surface of the board. There are two knives included with this set: a 6 inch Chef knife and a 3 inch paring knife. The knives are constructed of AUS-6A steel and are razor sharp upon arrival. The handles are non-slip Kraton for a safe, secure grip.
Contents: maple cutting board, chef knife, paring knife
Chef knife blade length: 6 inches (15.2 cm)
Paring knife blade length: 2.875 inches (7.3 cm)
Blade material: AUS6A stainless steel
Weight of board and knives: 2.5 lbs
In Stock: 4

our price $48.60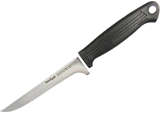 Kershaw Shun Boning Knife 5.5 inch 9920
This Kershaw Shun Boning Knife model 9920 has an impressively thick AUS6A high carbon stainless blade for premium blade retention and cutting ability. The polypropylene/elastomer handle provides a solid, all-conditions gripping surface that cuts down on hand fatigue. The 9920 Shun Boning knife is dishwasher safe for easy clean up.
Blade length: 5.5 inches (14.0 cm)
Overall length: 10.5 inches (26.6 cm)
Blade material: AUS6A stainless steel
Handle material: Injection molded Co-polymer
Weight: 3 oz
In Stock: 3

our price $16.17

---