2 different Kershaw Shallot Knives to choose from



---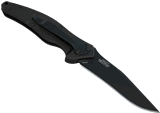 Kershaw Shallot Black 1840CKT
This black Kershaw Shallot, model 1840CKT, is the largest of the Leek-Chive family. Even though large with its 3.5 inch blade, you'll be surprised at how graceful the knife deploys when using the speedsafe opening. When you hold the knife you'll just feel like cutting something to put the razor sharp blade to work.
Blade length: 3.5 in. (8.9 cm)
Overall length: 7.9 in. (20 cm)
Blade Material:Steel: 14C28N, black DLC coating
Handle: 410 stainless steel, black DLC coating
Weight: 4.2 oz. (119 g)
In Stock: 1

retail $109.99
our price $58.31

Kershaw Shallot Black 1840CKT with Fleur De Lis
If you like fleur de lis then you will love this Kershaw Shallot with a fleur de lis emblazoned on the handle. For a limited time we are offering these Kershaw Shallow model 1840CKT knives with this beautiful laser engraving. The engraving will never come off of the knife, and will forever have a showpiece that makes people ask where you found it!
Blade length: 3.5 in. (8.9 cm)
Overall length: 7.9 in. (20 cm)
Blade Material:Steel: 14C28N, black DLC coating
Handle: 410 stainless steel, black DLC coating
Weight: 4.2 oz. (119 g)
In Stock: 3

retail $109.99
our price $69.99

---