2 different Kershaw Fishing Knives to choose from



---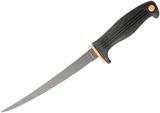 Kershaw Fillet Knife 1257 - 7 Inch
The black task force rubber handle of the Kershaw Filet Knife model 1257 has neon accents that help it stand out for visibility even in low light. The blade is 7 inches of flexible 420J2 stainless steel. The design of the 1257 lends just enough flexibility to make quick work of filleting fish. An ABS sheath is included with this knife.
Blade length: 7 inches (18.0 cm)
Overall length: 12 inches (30.5 cm)
Blade material: 420JS stainless steel
Handle material: Co-polymer
Weight: 3.5 oz
In Stock: 1

our price $10.06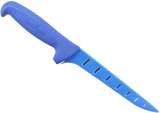 Kershaw Pro Grade 4.5 Inch Fillet Knife 1284
The Kershaw Pro Grade Fillet Knife 1284 has a blade made of 420J2 stainless steel with a polypropylene handle. This combination provides the user with a lightweight knife that has enough flex in the blade to make it perfect for filleting or boning. The handle design is user-friendly, allowing great control of the blade. The model 1284 Fillet Knife is not just a great addition to outdoor fishing or hunting gear. It would be an asset to any household kitchen. The included blade guard ensures that the blade remains razor sharp when stored.
Blade length: 4.5 inches (11.4 cm)
Overall length: 9.75 inches (24.8 cm)
Blade material: 420JS stainless steel
Handle material: Polypropylene
Weight: 3.4 oz
In Stock: 4

our price $11.85

---