click on image to enlarge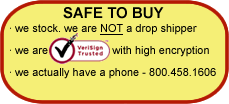 Kershaw Knives

1098AK

Technical Specs:
Blade material: AUS6A (gut hook), 420J2 stainless steel (hunting blade), steel (saw)
Handle material: black copolymer
Blade lengths: drop point-3 7/8 inches, bone saw-6 1/8 inches, gut hook-4 inches
Overall length: 11 inches
Weight: 11.6 oz
UPC Code:

087171109800



Kershaw Alaskan Blade Trader Knife 1098AK

Description:



The Kershaw Alaskan Blade Trader knife has three blades that, together, make hunting big game easier. One blade is a big gut hook ulu-style blade that is made from high quality AUS6A stainless steel. The other is a 420J2 stainless steel straight edge blade for hunting, and the other is a saw made from steel. The copolymer knife handle has a quick release built into it so that you can swap between blades in a matter of seconds. All three blades and the knife are carried in a sturdy leather sheath made for your belt.