click on image to enlarge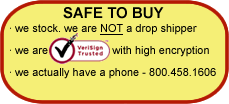 Kershaw Knives

1725

Technical Specs:


Kershaw Junkyard Dog II 1725

Description:



The Kershaw Junkyard Dog II plain edge is another quality Made-In-The-USA product direct from an instantly recognizable brand you can definitely trust - Kershaw. This Kershaw Junkyard Dog II blade loves nothing more than showing off, being on display, and giving you what you ask of it. High quality, stainless steel, made for heavy duty use. It contains the one-handed index finger opening system. The hard wearing handle is made up of light-weight G-10 scales which assists you while gripping the blade and especially during those active times you and the blade are working together. The closed length is 4.8, weighs just 5.2oz and the blade itself is 3.75 long. Enjoy!