click on image to enlarge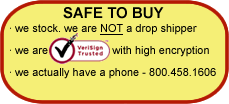 Kershaw Knives

1725SG2

Technical Specs:


Kershaw Junkyard Dog II Titanium 1725SG2

Description:



The Kershaw Junkyard Dog II SG2 is equipped with a SG2 steel blade and a titanium handle. Have you ever tried one of these? If so I think you'll agree that the Kershaw Junkyard Dog II can open with a louder pop than some of the fastest automatic knives on the market. Would you believe that this knife blade is not assisted at all? The weight of the blade is in perfect balance with your wrist. One flick and this blade deploys in a hurry!