click on image to enlarge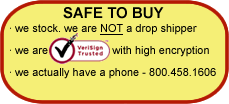 Kershaw Knives

1720ST

Technical Specs:


Kershaw Junkyard Dog Serrated 1720ST

Description:



Oh say can you see, it's the Kershaw Junkyard Dog, model 1720ST. This patriotic looking serrated version of the Junkyard Dog has a handle with Air Force graphics and sort of resembles the wing of an aircraft. This razor sharp made-in-the-USA knife has a lever on the back of the knife that can be used to quickly deploy the knife using only one hand.