2 different Kershaw Funxion Knives to choose from



---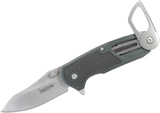 Kershaw Funxion DIY Grey Knife 8200GRY 8200GRYX
Kershaw has joined Function and Fun together in this knife the FUNXION DIY 8200GRYX. The satin finish blade on this knife is made of 8Cr13Mov steel and three inches long. This is not only a knife but also a multi-functional tool equipped with 4 tools. It has a screwdriver, hex wrench, cap lifter, and a carabiner. This sleek design handle is made of aluminiu with a gray rubber insert for a more secure grip. There is a flipper on the tip of handle for easy opening along with the Speed Safe System from Kershaw to get a full deployment and secure lock into place. Lightweight, functional, and fun- all in one!
Blade Length: 3 inches
Closed Length: 4.25 inches
Stainless steel blade, satin finish
Handle: Aluminim, Rubber Insert
Weight: 5 ounces
In Stock: 4

our price $36.45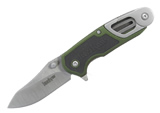 Kershaw Funxion Outdoor Olive Green Knife 8200OL 8200OLX
The Kershaw Funxion Outdoor is not only a knife but handy tool as well. It has a secret saw blade that comes out of the handle, along with a clip to attach this Funxion to your jacket, bag, or whatever you want it on. The main blade is a 3 inch satin finish with steel made of 8Cr13Mov. For the handle, it is olive green aluminum on the back side and olive and with black rubber inserts for grip on the front . This Funxion has the style and functionality you have been looking for in your everyday carry.
Blade Length:3 inches
Closed Length: 4.25 inches
Stainless steel blade, satin finish
Handle: Aluminim, Rubber Insert
Weight: 5 ounces
In Stock: 4

our price $36.45

---