2 different Kershaw Shuffle Knives to choose from



---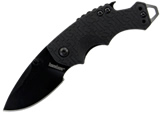 Kershaw Shuffle Black Folding Knife 8700BLK
This Kershaw Shuffle model 8700BLK features a black oxide coated steel blade and a glass filled nylon handle with textured grip. This knife is an all around pocket knife because it has a built in bottle openerand a flathead screwdriver on the butt. The flathead screwdriver doubles as a lanyard hole. At only 2.8 ounces this knife fits nicely in your pocket without tugging down at your britches!
Blade Length: 2.25 inches (5.7 cm)
Closed Length: 3.25 inches (8.3 cm)
Blade material: 8Cr13MoV with black oxide coating
Handle material: Glass filled nylon with textured grip
Weight: 2.8 ounces
In Stock: more than 10

our price $15.09

Kershaw Shuffle Knife 8700
Kershaw Shuffle 8700 is a lightweight versatile knife. It has a oversized bead blasted blade measuring 2.4 inches. The handle is a black overmold on top of the glass filled nylon, which helps to secure your grip. The end of the tool has a lanyard hole and flathead screwdriver. The top rear of the handle will have a bottle opener too! The Shuffle is a great knife and tool all in one that will fit into your pocket so good. Dual thumbstubs help to open it up manually and this will lock into place with a liner lock system.
Blade Length: 2.4 inches
Closed Length: 3.25 inches
Blade Material: Steel 8Cr13MoV
Handle Material: Glass-filled nylon with rubber overmold
Weight: 2.8 oz
In Stock: 9

retail $24.99
our price $15.19
additional 14% OFF !
sale price $12.99

---